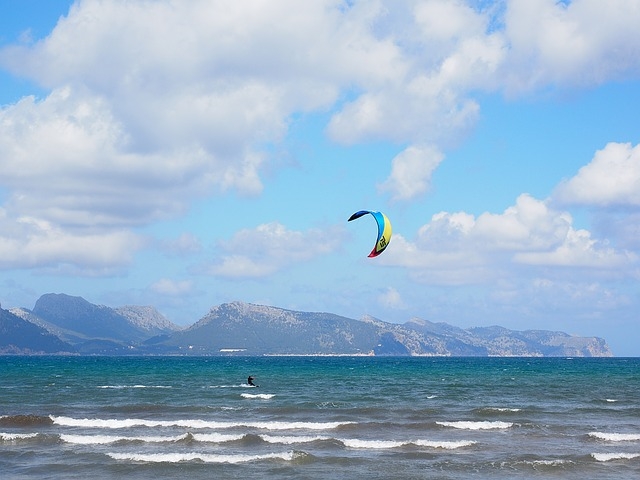 The Spring season is coming to an end, and Summer is knocking on the door with enthusiasm to practise different activities in the fresh air, experiences packed with adrenaline and definatly fun with the sea as the main feature.
On the island of Mallorca, thanks to our amazing climate, the practise of kitesurfing has gained a strong hold over the years with great expecation and many enthusiasts.

With these conditions came forth the Kite school Mallorca "Mallorca Kiteboarding and SUP". Leading this school are two young very profesional entrepeneurs who wanted to join their knowlege, experience and passion for this watersport to help many others to learn and enjoy it without limits.
With a refined philosophy and guidelines, this Kite school Mallorca commits to help you learn this sport 100%, setting objectives and acomplishing them during your course.
At the school we have four modalities of kitesurf lessons to adapt to your neccesities and conditions of each of our clients.
People who want to have their first contact with this unique watersport have available the "taster course" where you get your fist try at this dicipline, with sessions that vary between one and three hours. The course includes all the equipment needed to practice kitesurfing, so you and your Friends only have to bring your will to learn along with sunscreen and sunglasses.
After the taster course, whoever wishes to learn this sport has available to them the initiation courses witch vary between six and eight hours, with a máximum of three hours per session.
Depending on your ability, you will prosper sooner of later, reaching your set objectives during this course for people without any experience.
Another interesting course are the "refresher courses", which have as an objective to refresh your current knowlege of kitesurfing for people who already have experience but have not practiced in a while.
The experienced students in this dicipline also have a place at Kite School Mallorca, thanks to our advanced courses where you can perfect techniques like basic navigation, jumps, transistions or Surfkite.