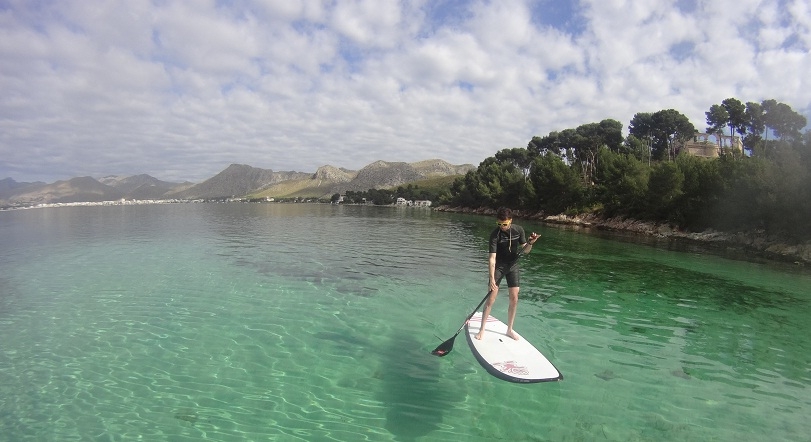 SUP is not a misspelt first course, it is the latest fun activity for the summer holidays. SUP stands for Stand Up Paddle; it is an easy and fun sport that appeals to everyone. It is a happy cross between "stand up and be counted" and "get in your canoe and paddle".
Standing and paddling
Stand up paddle boarding originated in Hawaii. SUP is a spin-off from classic surf-boarding and the board itself is very similar. The addition of a paddle gives the sport flexibility; regular surfing, whether standing or lying on the board, is dependant on suitable waves. The paddle gives constant mobility, even on the flattest water, while it does not exclude riding the waves when they arrive. The paddle is similar to a canoe paddle but, as the paddler is standing, it is much longer, measuring at least two metres. Paddlers generally wear a wet-suit but much depends on location and summer temperatures.
"Beautiful SUP" for your summer holidays
Many holiday resorts offer surfing and paddling activities throughout the summer months and SUP is becoming increasing popular among holiday-makers. This is because it is simple to learn, it is something different, and it can be combined with other holiday activities such as sight-seeing, fitness programmes or even racing. Another big attraction is the fact that almost any body of water can be suitable for SUP. You can paddle around lakes, along canals or rivers, even in rapids where the more expert paddlers can practise white-water SUP. The most popular SUP environment is the sea, where paddling sometimes combines with surfing the waves, or you can paddle off and explore afar when the sea is calm and flat.
One of the best locations to practise SUP is the lovely Balearic island of Mallorca. The island's beachy coast and the surrounding clear blue sea is the ideal location for this sport. SUP popularity is increasing annually and there are many paddling tours available. A tour, usually combined with a visit to otherwise unapproachable sites like caves or tiny islands, is the fun way to paddle. On tours, safety is paramount: each and every paddle boarding tour Mallorca offers is adapted to the skill level of the paddlers. Beginners' tours are very popular and are also suitable for children. They start off with a lesson on the basics of board paddling, with tips about equilibrium, weight distribution and how to develop an effective paddling stroke. Tours last about 2-3 hours guided by an expert SUP instructor, and all equipment, including a wet-suit if necessary, is provided. Expert paddlers can follow a longer, more advanced itinerary, venturing further afield and visiting spectacular beauty spots. Tour groups are generally small, up to ten people.
Pollensa, your holiday destination
The Bay of Pollensa, in the north-east corner of Mallorca, is a beautiful natural bay whose calm, protected, crystal-blue waters reflect the surrounding mountains and a profusion of lush, green sea-pines. The still waters, with the occasional wavy day, are perfect for stand up paddle boarding. Holiday-makers taking a SUP tour can visit all manner of out-of-the-way beauty spots, caves, grottoes and deserted sandy beaches that are accessible only from the sea. In Pollensa Bay there is plentiful accommodation all around the bay, the beaches are golden, facilities are top-notch, and many SUP tours are available: all the ingredients for an unforgettable summer holiday.