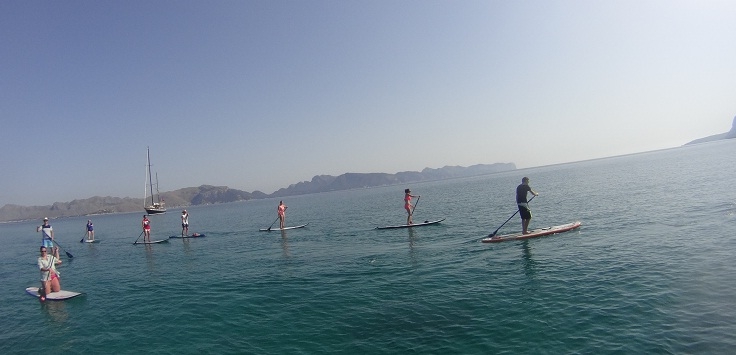 Learning to surf means taking part in one of the most exhilarating sports on the planet; testing yourself against the untamed sea, and riding the waves on a board.
However, not everyone has the skill or experience to hang ten on a huge wave, so paddle boarding is another great way to enjoy the sea by board.
Stand-up paddle boarding is simple; boarders use a larger, more stable board which allows them to stand up fully. They use a special angled paddle to propel the board and to steer. Stand-up paddle boarding is great fun, and an SUP tour Mallorca is an excellent way to enjoy the beautiful sea and scenery around Pollensa Bay. Stand-up paddling is safe and easy to learn; no experience is necessary, and anyone can learn to become proficient quickly. All our instructors are fully IOSUP (International Organisation of Stand-Up Paddle) qualified, and full training takes place before the tour begins.
All the equipment for paddle boarding is supplied before the tour: boards, paddles, wetsuits, neoprene boots and life vests are included in the price. Stand-up boarding is very safe, and our instructors will help everyone to enjoy the experience at their own pace.
The tour involves a paddle around the bay visiting a marine cave that can only be accessed from the sea; a tour of some natural swimming pools; a diving session from a small cliff, and the tour concludes with snacks and drinks in this beautiful environment. The tour takes around two and a half hours, and anyone above the age of five can take part.
For more experienced paddle boarders, there is an alternative tour that takes in some of the most spectacular spots in Pollensa Bay and Alcudia; this SUP tour Mallorca is available for anyone with medium to high paddle board skills. It is available for persons aged 12+, and it also lasts for two and a half hours.
With both tours, the itinerary is adapted to take into account your skills and needs. Our instructors are there to give you the advice and support you need to get the best out of the experience, and the aim is always to enable you to enjoy this unique sport in the crystal clear waters and unparalleled scenery of Pollensa Bay.
Both tours are priced at 40€, and are subject to weather and wind conditions on the day. Participants will also recieve a photo album of their adventure; join us for an SUP tour Mallorca, and enjoy everything the sport has to offer!